December 28, 2009:
All About Kate wishes all it's readers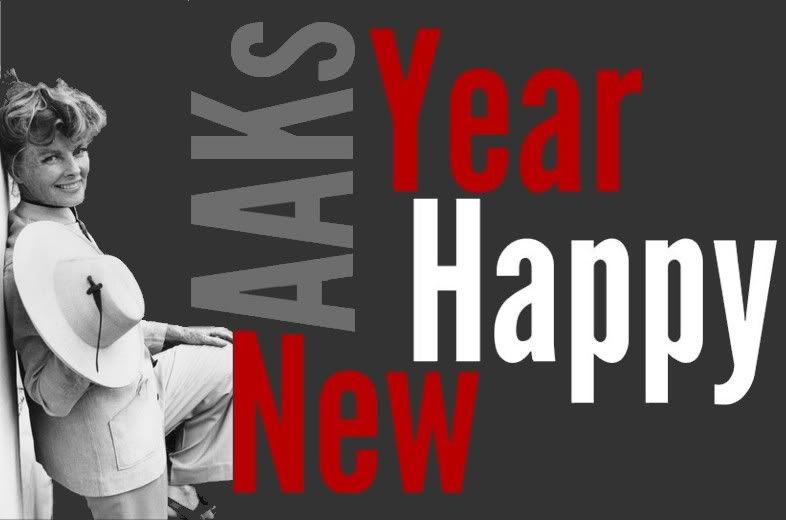 with an update:

A closeup of the portait by Everett Raymond Kinstler.
1930: 1 photo from Art and Mrs. Bottle.
1932: 1* photo.
1 photo from Bill of Divorcement.
1933: 1 photo.
4 photos from The Lake: One, two, three and four.
1934: 1* photo
3 photos from Little Minister: One, two and three.
2 photos from Spitfire: One and two.
1935: 2 photos from Break of Hearts: One, two and replaced another.
1936: 1 photo.
1 photo from A Woman Rebels.
3 photos from Mary of Scotland: One, two and three.
1937: 1* photo
4 photos from Stage Door: One, two, three and four.
2 photos from Quality Street: One and two.
1938: 2 photos from Holiday: One and two.
1944: 1 photo from Dragon Seed.
1946: 2 photos from Undercurrent: One and two.
1947: 1 photo.
5 photos from Song of Love: One, two, three, four and five.
1 from Sea of Grass.
1951: 1 photo of Kate receiving a Totem Pole Award.
1952: 2 photos: One and two.
1 from Pat and Mike.
1955: 3 photos One, two and three.
1960: 1 photo from Antony and Cleopatra.
1968: 2 photos: One and two.
1981: 1 photo from On Golden Pond.
Photos with *are kindly send in by Milesadrift. Thank You!

December 18, 2009:
All About Kate wants to wish all it's readers A Merry Christmas
December 11, 2009:
A reader has send in scans from her collection to AAK.
4 Cigarette Cards from Denmark 1936 (OK one of them is from coffee)
and 7 Magazines (text can be read):
1938:
The Family Circle 1938 and
Le Film Complet du Jeudi 1938.
1940-43:
The Family Circle 1940,
The Family Circke 1941,
Picture Show 1941 - page 1,
Picture Show 1941 - page 2 and
The Family Circke 1943.
Thank you to Helen, San Jose, CA
August 30, 2009:
All About Kate received a nice e-mail from blogger Encore Entertainment: KATHARINE HEPBURN POLL.

Recently happened upon your site which is a wonderful tribute to that great woman Kate the Great. I have a blog over here and although it is not a Kate fansite I have set up a few polls about her films and performances here I want it to be as diverse [read the post and you'll see]...and where better to get people who have seen many of Kate's film than at a fansite? I hope you're willing to participate in this venture. I wanna pick the brain of the public and see how they like Kate.

Keep up the good work. And oh my it's quite yar :)
Encore Entertainment

Please do visit Encore Entertainment and help out a fellow Hepburnian.

Here is another nice blog What Would Katharine Hepburn Do? by the author Susan Champlin with the imagined conversation "Norman! The loons are teaching their baby to fly." She nails the essence of Katharine Hepburn. Don't you think?!

August 1, 2009:
A new blog has been made by Dayna - a fan of Kate the Great.

Added a new page Wallpapers: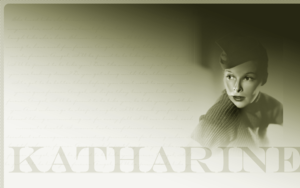 The first is donated by Sofia

If you would like to share your wallpaper(s) - please do e-mail them.
July 8, 2009:
The New York Public Library for the Performing Arts has a huge exhibition "Katharine Hepburn: In Her Own Files" - do read the amazing article, which Judy Samelson has written for Playbill.

April 17, 2009:
Added several Magazines :
Picture Show 1933+1934 - Cine Muncipal 1934 - Cinelandia 1934 -
Picture Show 1936 - Film Program (A Woman Rebels) 1936 - Picture Show 1938 - 7Jeours 1941 - The Saturday Evening Post 1941 - The Stanford (Woman of the Year) 1942 - Uge Revyen 1945 - Primer Plano 1947 - Ecran 1947 - Triunfo 1947 - Theater Time 1950 - Theater Program (As You Like It) 1950 - Film Program (The African Queen) 1951 - Mon Film 1951 - Film Program (Pat and Mike) 1952, Film Program (Summertime) 1955 - Film Program (The Rainmaker) 1957 - Star Cine 1957 - Chicago TV Guide 1973 - TV Times 1973 - TV Week 1975 - Performing Arts 1976 - Performing Arts 1977 - TV Guide 1979 - Screen Greatest 1982 - Ladies Home Journal 1983 - TV Guide 1983 - TV Guide 1989, Radio Times 1991 - Local TV Book 1992 - The Cable Guide 1993 - Lanacion 1993 - Daily News 2003 and Match 2003.
April 12, 2009:
Added the page Articles
A collection of various articles from the net.
And the information about a play from 1928 Jonesy in which Kate's part
was Diana Devereaux.
October 2, 2008: